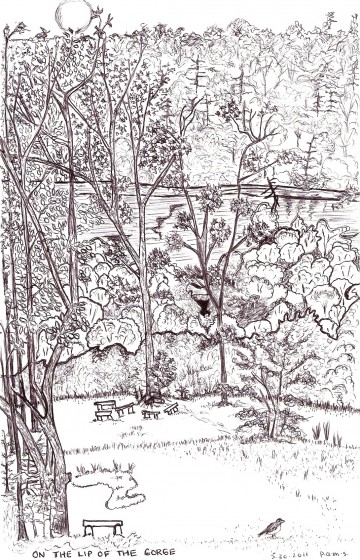 Audio clip: Adobe Flash Player (version 9 or above) is required to play this audio clip. Download the latest version here. You also need to have JavaScript enabled in your browser.
Little did I know that when 11 years ago I thrashed about "Lot 11" at the gated equestrian community of the Highlands, Grandma, Kathy and Daddy would soon be going to the other side. Or that my mother would subsequently sell "Leatherwood Retreat" and build a house on "Lot 10" of the Highlands. At the age of 80, grieving the loss of her mother, her daughter, and her husband, she chose a home design for the lot and supervised the building of the house "on the lip of the gorge."
I had fallen in love with the place because of its raw beauty, the constant sound of a waterfall cascading into the deep gorge, and the presence of what appeared to be a deep cave in the far wall of the gorge. Now we take the long flight to Knoxville, the long drive to the Highlands, and sit in the sun room at my mother's (and sister Chrissy's) house. I draw the scene I love while listening to that waterfall (to the left of the picture, not visible except during the winter when the leaves are off the trees).
The objects in the "yard" are benches that Brian built several years ago. It was our idea that there could be benches at various spots from which to behold this view worthy of a national park. Seen from the sun room or back deck, the benches seem to have an identity of their own that goes beyond being just something to sit upon. They remind us a bit of Stonehenge.
The drawing was done over a period of about four days. The sun is setting in a clear sky. The robin in the foreground represents the robin that came to me each morning at sunrise on the other side of the house. The "time and space stretch" enabled me to include the robin. (When we returned to "Leatherwood Retreat" after my dad's funeral on March 5, 2003, there were hundreds of robins standing at attention on the lawn. Ever since, I think of my dad when I see a robin, and feel somehow that he is close by.)
Click on the arrow below the picture to hear the sound of the whippoorwill.