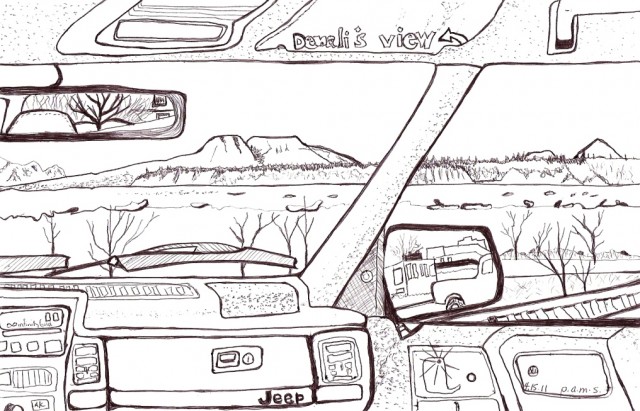 This drawing was particularly fun to do. I wanted to draw Susitna (Sleeping Lady) and the Inlet, and it was a clear-sky day. I didn't know that I would end up drawing the inside of the car and the view in the mirrors, or Denali (Mt. McKinley, the tallest point in North America). Before heading for this spot, I stopped at Side Street Espresso to fuel up. While I was there I was engaged in an exercise of inner attention that had altered my perspective.
Previously I had noted that there was very little in the way of scenery in the room that seemed interesting. I felt I had mined the interest from the place the last time I was there to draw. However, as I followed the inward focus, I began to feel enlivened in my senses. I began to feel that everything was equally interesting and alive, that every moment of waiting for my soup was infinitely sweet and compelling. No matter where I turned it was the same. I had a sense that there was no limit to anything, that everything could be penetrated kind of like it was a bottomless pit.
It certainly seems that  I carried that perspective with me to my drawing spot, and the unexpected results were due to that preparation.