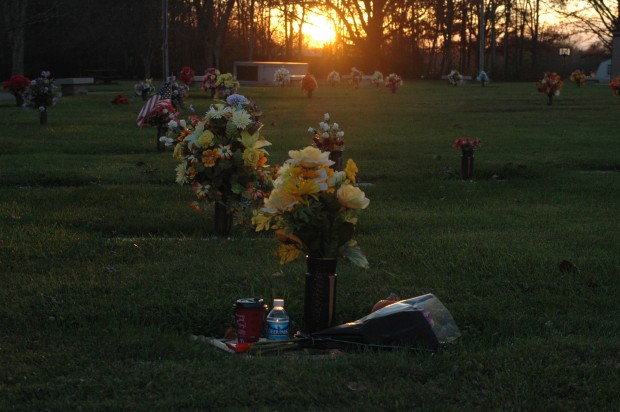 Chrissy and I visited the cemetery outside of Jamestown, TN where Daddy and our sister Kathy are buried. We offered flowers, candy, water coffee, and we put tiny pumpkins at their graves. As we did recitations a lone bird sang. The sunset was especially stunning in its colors. The night was cold and clear except for a few clouds close to the horizon. When we came home we lit candles for each of them. It was after that that I happened upon this verse on the Facebook page of  Wild West Irish Tours.
On Passing A Graveyard
(For All Souls Day)
May perpetual light shine upon
The faces of all who rest here.
May the lives they lived
Unfold further in spirit.
May the remembering earth
Mind every memory they brought.
May the rains from the heavens
Fall gently upon them.
May the wildflowers and grasses
Whisper their wishes into the light.
May we reverence the village of presence
In the stillness of this silent field.
~John O'Donohue