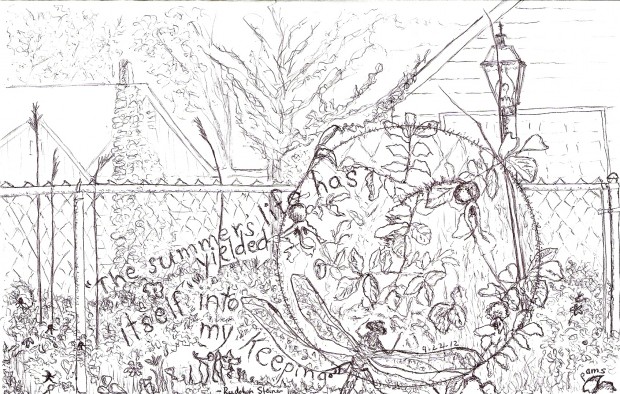 This drawing was done over a time period of perhaps ten days– as a result, the season had moved along its trajectory towards fall from the beginning to the end of the drawing period.
I decided to begin with drawing part of the Sitka rose hedge close up, and was sitting on the grass doing so, when a dragonfly flew by really close and landed on the mailbox. It was a sure sign he wanted to be in the drawing. He dutifully remained on the mailbox and allowed me to take several pictures, which I used to help me render him accurately in the drawing.
I had not been certain about the background, but I finally settled on the hedge itself so that the circle is kind of like a magnifying glass. The Steiner verse conveys my inner feeling about this time of year. I do feel that summer is being pulled to the inside of myself.
The energy is definitely pulling itself from the skies into the earth, and this is conveyed in the drawing. I didn't plan it this way, but it the drawing process reveals this. I wanted to use words in this final drawing, and the words from Steiner's The Calendar of the Soul for the Twenty Third Week (the week I began the drawing) were perfect:
There dims in damp autumnal air
The senses' luring magic;
The light's revealing radiance
Is dulled by hazy veils of mist.
In distances around me I can see
The autumn's winter sleep;
The summer's life has yielded
Itself into my keeping.
At the bottom of the picture, little "beings" came forth. They seemed to be saying that they were now going underground, so "goodbye" until next summer!